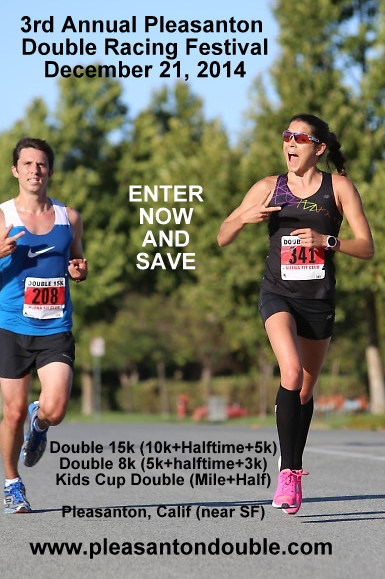 Sign up NOW to get your FREE Santa Hat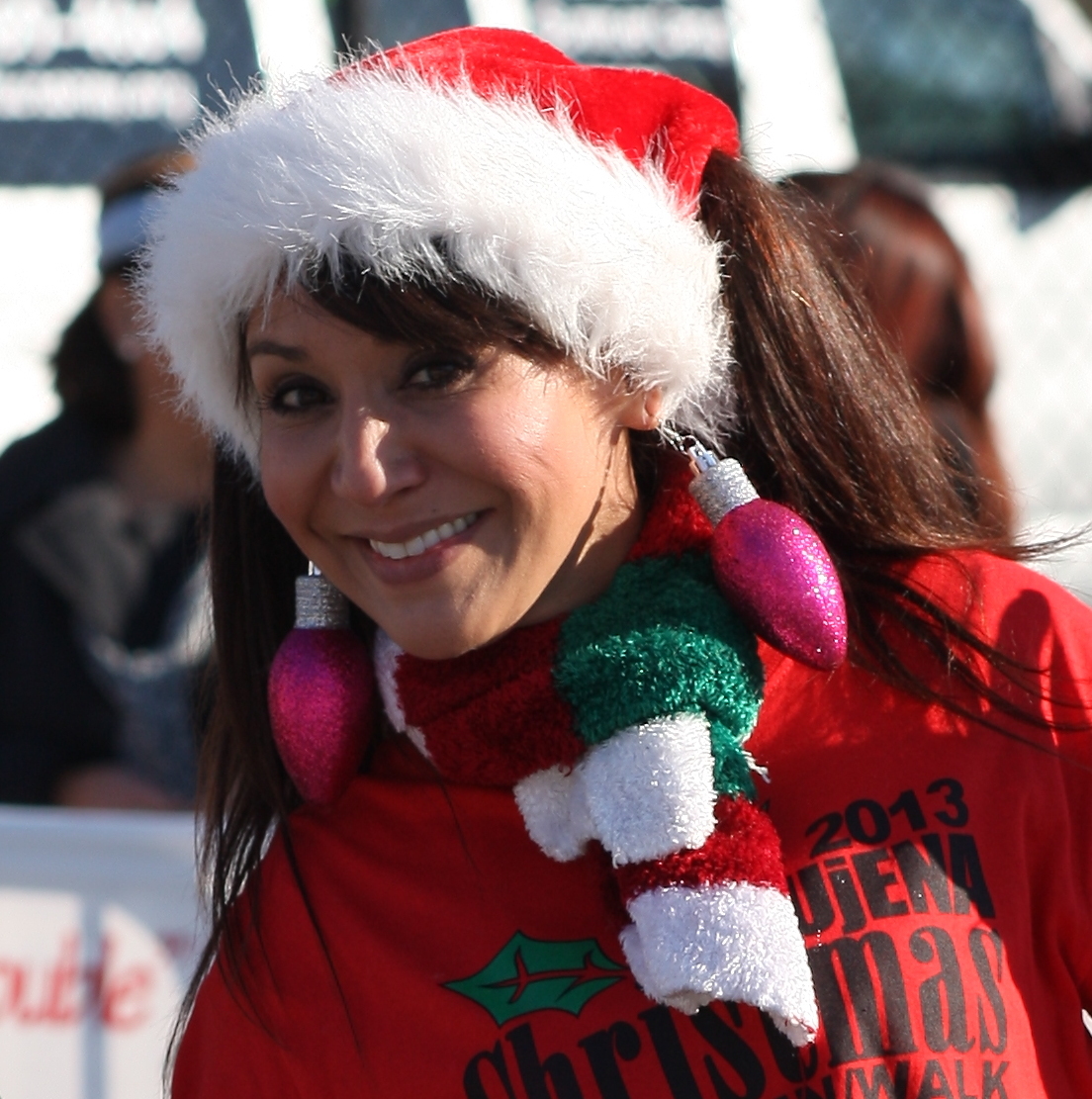 232 Santa Hats Remaining
as of 8:34am Dec 19



ON LINE Registration closes at 9am Sat Dec 20
After this you must sign up at Club Sport or race morning from 6:30am and 7:30am or Kids by 9:30am
"Amazing race! Bob Anderson and his team did a fabulous job bringing everything together. Well organized, must say. Doing it this year for sure," said Simranjeet Kumar "Incredible event! The recovery zone rocks," said Alan Reynolds
Register for Double Road Race 15K (10k+5k), Christmas Double 8K (5k+3k) and Bob Anderson Kids Cup Double 1.5 Mile (1+half)
Join us for the 3rd annual
Pleasanton Double Racing Festival
Sunday Dec 21, 2014
"Running with a halftime"
Most Fun San Francisco Bay Area
Christmas Running Event
**Santa Runner contest**
"Double Racing®, Double for short, is a two stage running challenge. Participants first run the longer stage, take a halftime break and then run the second stage. Times are combined for scoring. Participants must complete both stages to get an official time.
Double Racing® is more than just running. The halftime break makes it unique. Runners normally don't stop, recover and then run again. Runners who have completed a Double have enjoyed this new challenge. Many have already run more than one Double Racing event. The second stage starts 1 hour and 45 minutes after the first leg.
"Runners and walkers of all abilities are making this their pre Christmas annual running event," says Double Racing creator and Runner's World and now Double Runner founder Bob Anderson.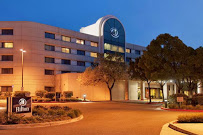 Make it a weekend. Come for the Double 15k Leaderboard Awards Saturday night Dec 20 at 7pm Club Sport and the Ujena Fit Club Annual Awards Presentation. Club Sport is right next door. Then run the Double the next morning. We have secured a special rate of $75 per night at our official hotel, DoubleTree Hilton. Click on photo to book your room. Our room block is filing up fast. Mention Double when booking to get this special rate.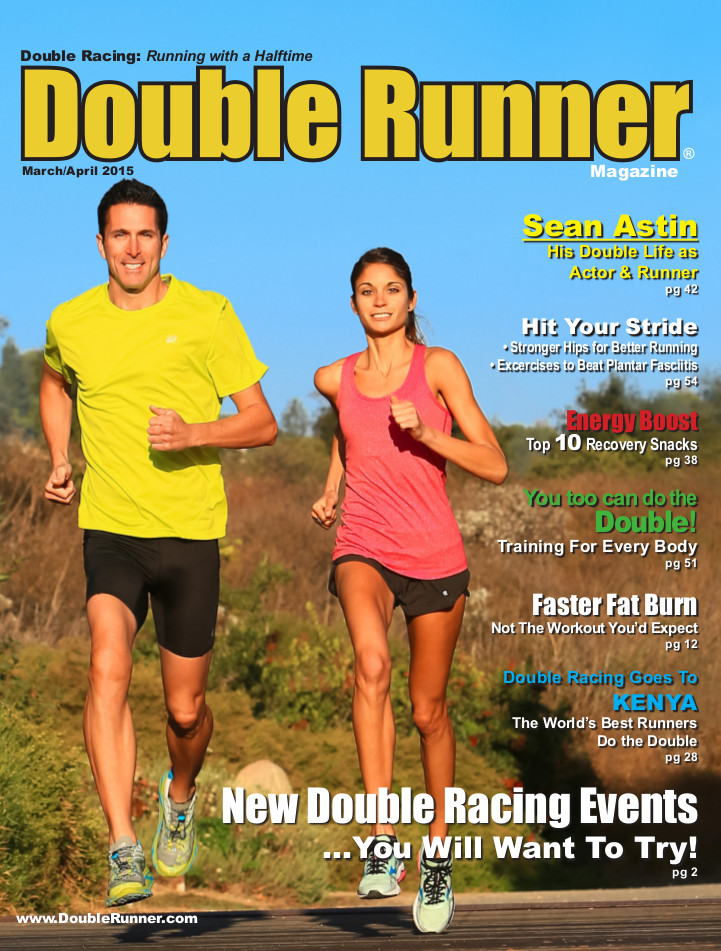 FREE ISSUE OF DOUBLE RUNNER WITH YOUR Entry
Our sport of Double Racing is getting its own magazine. The first issue of Double Runner will be released at the Pleasanton Double Racing Festival. A major feature will appear in our second issue on the Pleasaont Double. Editor Pete Magill and staff will be on hand to speak with many of YOU! Double Runner publisher and Double Running creator Bob Anderson will be running his 26th Double Racing Event in Pleasanton. He wants to run with YOU! Our two "cover runners" will be running their first Double in Pleasanton!
Pleasanton Double Racing Festival Details:
When: Sunday Dec 21, 2014
Where: Pleasanton, California (45 minutes east of San Francisco, 30 minutes north of San Jose)
Start/Finish: Hart Middle School, 4433 Willow Road, Pleasanton, CA 94588
Events:
1. Pleasanton Double Road Race 15k Challenge (10K + Halftime + 5K)
2. Christmas Ujena Double 8k Run/Walk (5k + Halftime + 3k)
3. Bob Anderson's Kids' Cup Double 1.5M (1mile + half mile) For Kids 13 and under.
4. Double Road Race Team Competition (Top 3 runners score)
5. Most Fit Club - Team with the most finishers in all three races will win plaque and a special medal for each team member
6. Santa Runner Contest (Run any of the races in a Santa outfit (male or female) The runner with the best costume and most spirit will win $100 cash. Those going for ths prize needs to be at the finish line of both legs of the Kids Cup Double legs. This is where your spirit will be measured. The Santa runner (must wear more than just a santa hat) with the best time in the Christmas Ujena Double 8k will win a $100 gift certificate.)
7. Live Music and Food - You will be entertained by two live bands and a DJ just outside the Gym. In addition to halftime treats there will be plenty of delicous food for purchase.
2014 Pleasanton Double Road Race Schedule: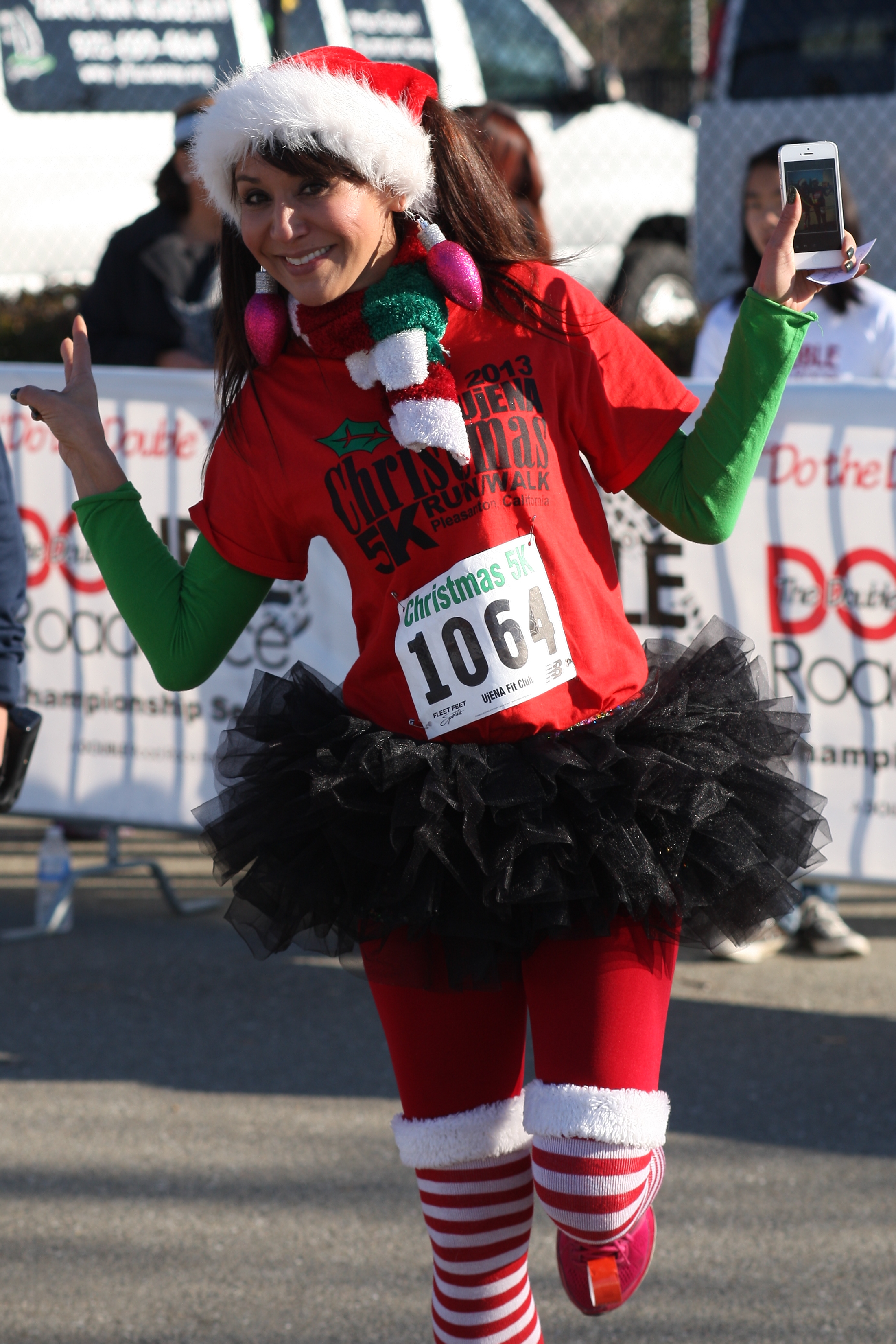 Saturday December 20
11am - Do The Double Fun Run (from DoubleTree Hilton Hotel next to Club Sport)
11:30am - 7pm Packet Pick Up and Late Registration (at Club Sport)
6:30pm Double Night Before Party (upstairs at Club Sport)
7:00pm Double Road Race Leaderboard Awards (Club Sport)
7:00pm Ujena Fit Club Annual Awards Presentation (Club Sport)
Sunday December 21
6:30am Same day registration and packet pickup for all races
8:15am Double Road Race 10K leg (15k)
8:25am Double Road Race 5k leg (8k)
10:00am Double Road Race 5K leg (15k)
10:10am Double Road Race 3k leg (8k)
10:45am Bob Anderson's Kids Cup Mile Leg (1.5M)
11:15am Bob Anderson's Kids Cup 1/2 Mile Leg (1.5M)
11:30am Awards Ceremony for all races (In Gym)

Your entry fee covers: Official race t-shirt, special tote bag, complimentary autographed copy of Double Runner, entry into the Recovery Zone, special two-sided medal for all Double finishers, special Double two-sided medals to the top five in each age group, and the opportunity to win some of the prize money for overall and age-group winners.
Run For The Kids - 100 percent of all donations will be donated to non-profit youth running programs locally and nationally to benefit youth running.
| | | | |
| --- | --- | --- | --- |
| | | | |
| | | | |
| | | | |
| | | | |
| | | | |
| | | | |
| | | | |
| | | | |
69,072