7th Annual Christmas Double Road Race 15K/8K
UjENA 10K and 5K Run/Walk
Kids Cup Double 1.5m (1+half)
Saturday December 15, 2018
Click HERE to sign up and SAVE
San Juan Bautista, California (Just 30 minutes south of San Jose)
Sponsored by UjENA Customwear $10,000 of Prize Money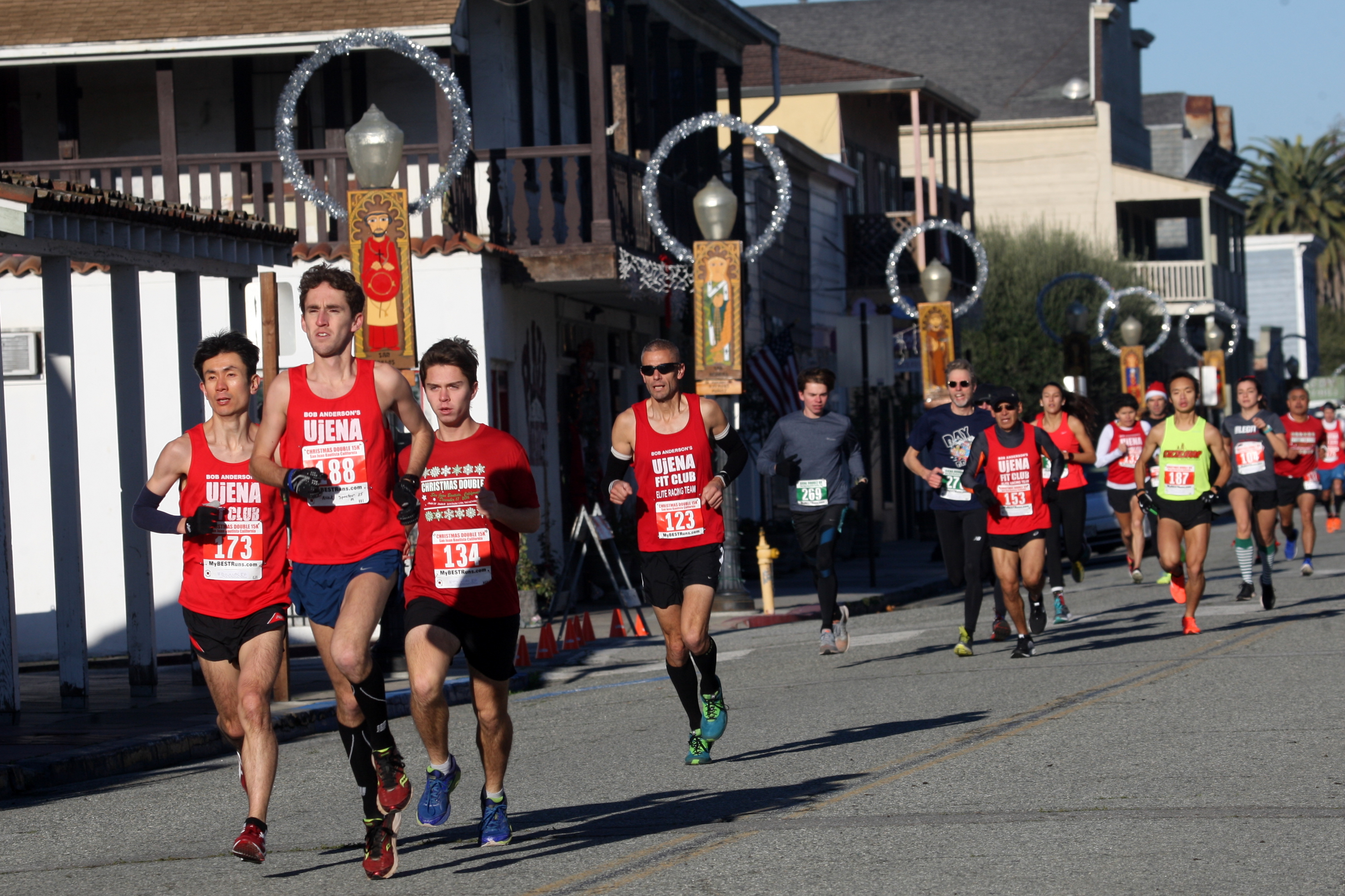 San Juan Bautista is just 30 minutes south of San Jose, California. San Juan is a "real" western town and the perfect setting for our Chirstmas running events. Bring the whole family and enjoy our pre Christmas events. Everybody gets a Santa Hat and all finishers get a medal.
Do The Double or run/walk the UjENA 10K/5K
"Double Racing®, Double for short, is a sport consisting of two-stage running events. Participants first run the longer stage, take a halftime break and then run the second stage. Times are combined for scoring. Participants must complete both stages to get a time. The second stage starts 1 hour 45 minutes (restart) after the start of first leg.
​There will be four Double Racing events in San Juan. Our classic Double Road Race (10K+5K), Double 8K (5K+3K), Bob Anderson's Kids Cup Double 1.5mile (1M+Half), Sprint Double (1M+Half)
​Additionally there will be two open races, the UjENA 10K and UjENA 5K Run/Walk.
This will be a fun Christmas event. All participants will be given a Santa Hat and a Long Sleeve shirt.
"I loved everything about this race," says Dana Gonzales. "Kudos to the double team for organizing such a well-run fun and unique event which is a breath of fresh air to the running community," says Bertrand Newson.
---

Bob Anderson's KIDS CUP DOUBLE 1.5 Mile
One of the hightlights of the Christmas Double Racing Festrival is the Kids Cup Double. For kids 13 and under. Each kid gets a shirt and all finishers get a medal. The fastest boy and girl will be presented with a special trophy.

Christmas Double Road Race benefits the American Red Cross!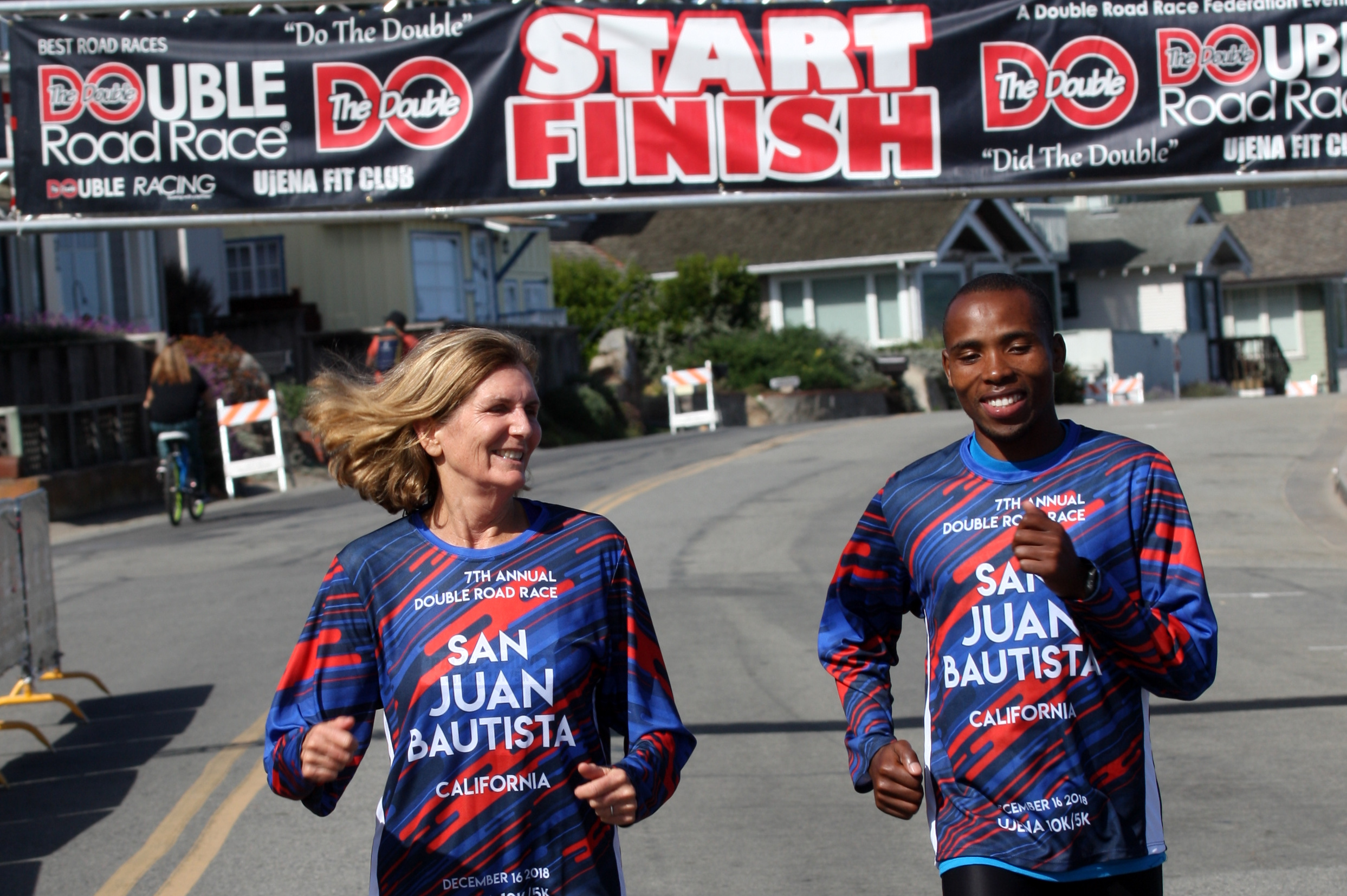 2018 Christmas Double Schedule
Friday December 14, 2018
Double Racing Awards Ceremony and Packet Pickup
6:00pm Packet Pickup or race morning
​7:30pm-8:30pm Annual Awards Ceremony - 2018 Double Leader Board Winners and UjENA Fit Club Winners

Saturday December 15, 2018
Where: San Juan Mission, San Juan Bautista, California
406 2nd St, San Juan Bautista, CA 95045
7:00am Same day registration and packet pickup for all races
9:00am Double Road Race 15K (First 10k Leg)
9:00am UjENA 10K Race
9:00am Double 8K (First 5K leg)
10:45am Double Road Race 15K (Second 5k Leg)
10:45am Double 8K (Second 3k leg)
10:45am UjENA 5K Run/Walk
11:15am Kids Cup Double (First 1 Mile Leg)
11:30am Sprint Double (First 1 Mile Leg)
11:45am Kids Cup Double (Second 1/2 Mile leg)
12:00pm Sprint Double (Second half mile leg)
Event Photos

Your entry fee covers: Official long sleeve race t-shirt, special tote bag. entry into the Halftime Recovery Zone, new medal for all finishers.
Our San Juan courses all start at the Mission and the 10K course runs through the historical section of town. Then the course goes out to the country roads. They are fast certified courses. Pefect courses to set PR's.