Sign Up for Double Road Race San Jose August 22, 2015
5th SAN JOSE DOUBLE RACING FESTIVAL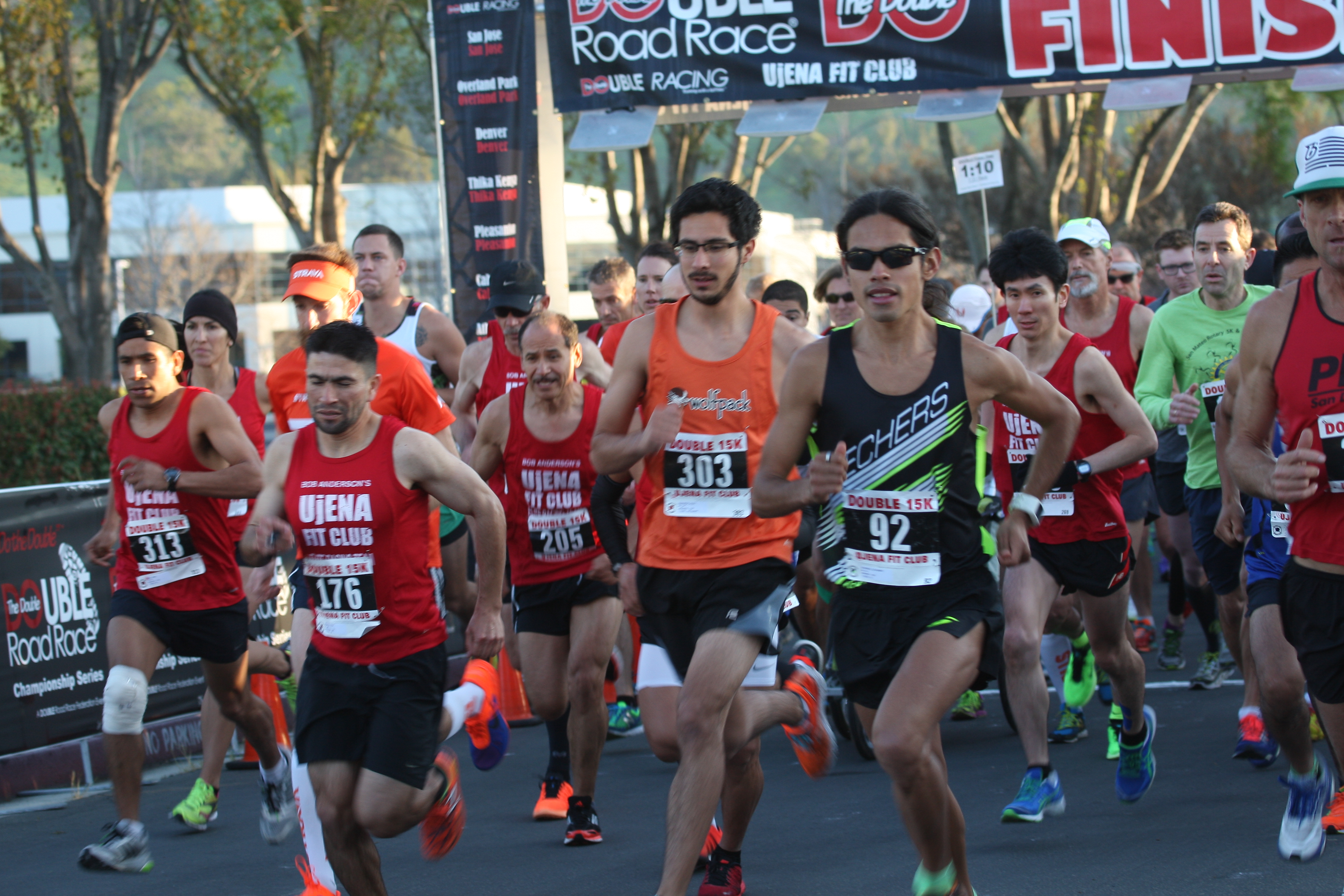 Saturday Aug 22, 2015
presented by




hosted by Ujena Fit Club
Sponsored by Road Runner Sports, Toni's OatMEAL,
Nuun. Club Sport and METRO
Benefiting Just Run, Racing Hearts, Wounded Warriors and American Red Cross
3 Double Racing events: Double Road Race 15k UjENA Double 5k Kids Cup Double 1.5m
"Double Racing is a two stage race with a halftime recovery break between the legs. It is a new sport. It is a new challenge for runners and walkers of all abilities." says Double Racing creator Bob Andreson. "I have run over 30 Doubles and I really enjoy having the break. It gives me a chance to recovery, make adjustments and talk to other runners. I really enjoy Double Racing. I think you will too!"
Times for both stages are added together for scoring. During halftime we provide everything you need to recovery. Or bring along your "secret" recovery drink, food or device. The Double is fun, challenging and exciting!
Live Music - Food - Double Races for the whole family - Loads of Fun!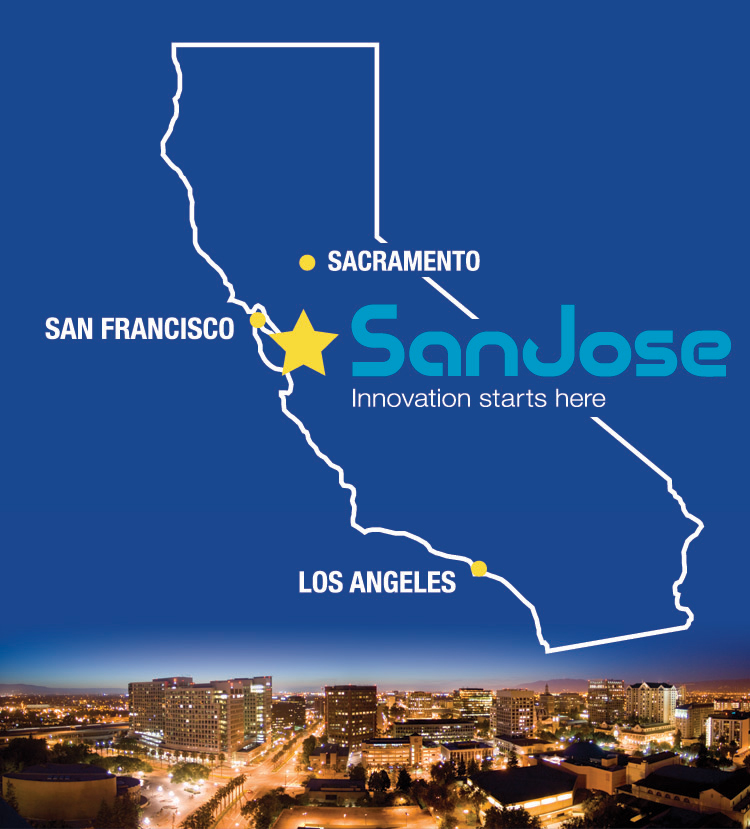 When: Saturday Aug 22, 2015
Where: San Jose, California


Start/Finish:
IDT Campus, 6024 Silver Creek Valley Road, San Jose, CA 95138

San Jose Double Racing Festival Events: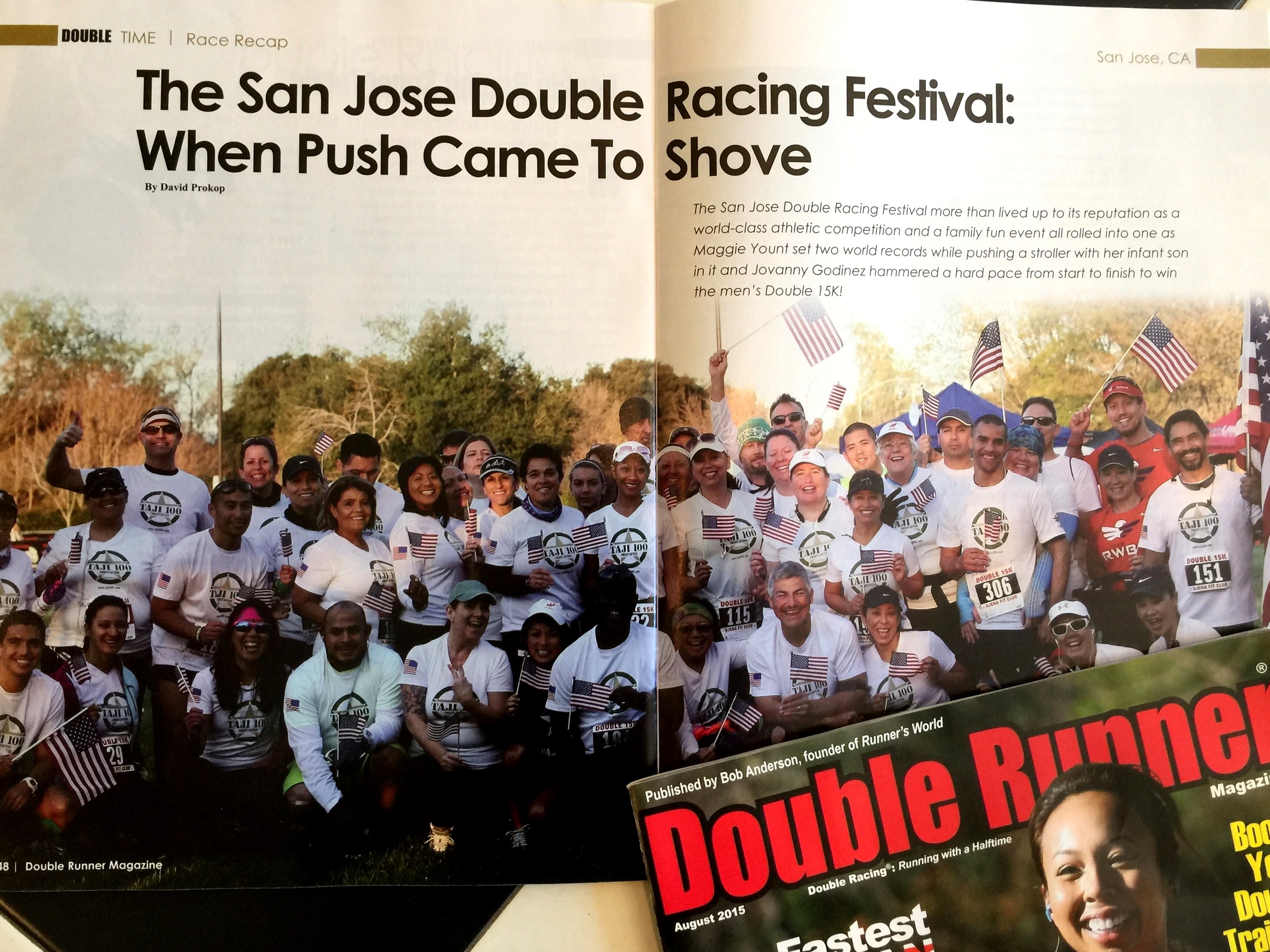 San Jose Double Festival (two live bands, tasty food and 3 Double Racing events)
San Jose Double Road Race 15k Challenge (10k+5k)
Ujena Double 5k Run/Walk (3k+2k)
Bob Anderson's Kids Cup Double (1 mile+1/2 mile) Kids 13 and under
Double Road Race 15k Team (Top 3 runners time score)

Most Fit Double Team (Team with the most finishers between all the Doubles) Win a plaque and each team member gets a special medal. (TAJ100 was our Most Fit Team winner at the last San Jose Double and were featured in the latest issue of Double Runner magazine on news stands now.)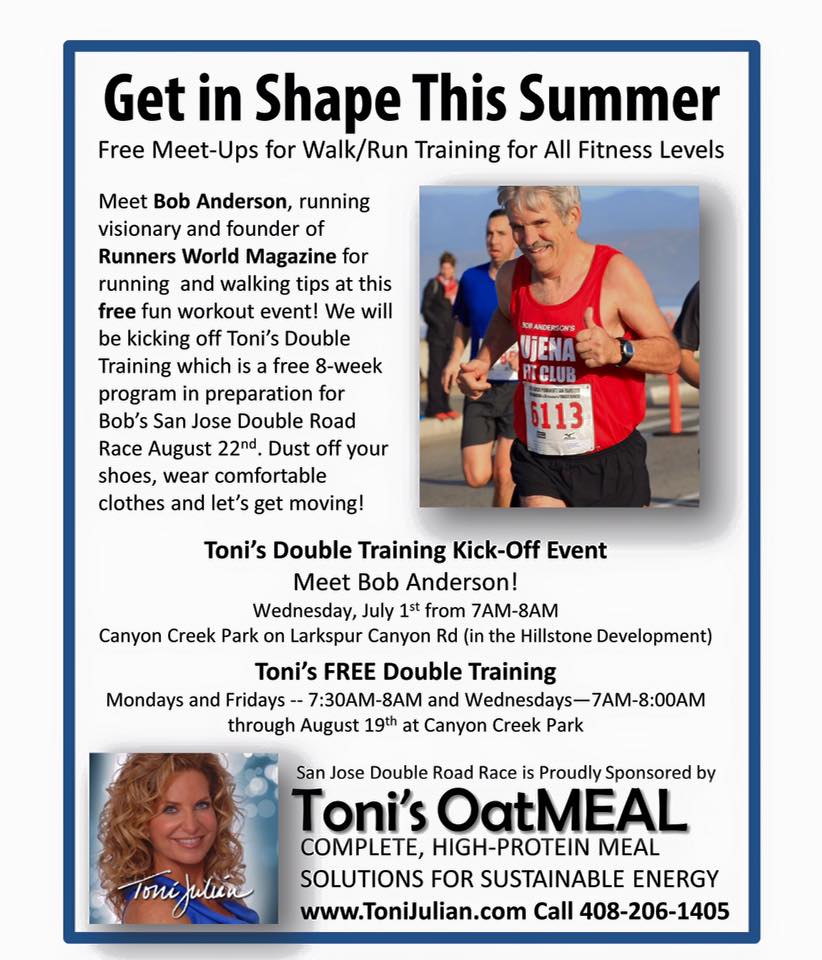 FREE 8-Week Toni's Double Training Runs in San Jose**

Join us for special training to help make your Double Racing experience the best ever. Three days per week. You can run all three each week or pick the dates that work for you. Location is only four miles from the August 22 Double starting line.
Toni's Double Training Runs will take place in Canyon Creek Park on Larkspur Canyon Road (in the Hillstone Development) in the SIlver Creek, San Jose area. Starting Wednesday July 1st at 7 am (lead by Bob Anderson and Toni each week) will be a one hour workout - 30 minutes of running/walking, 15 minutes of core work and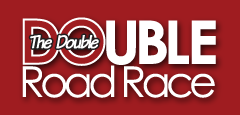 recovery, 15 minutes of running. Mark your calendar - July 1, July 8, July 15, July 22, July 29, August 5, August 12 and August 19.
On Monday and Friday (starting July 3) at the same location at 7:30am, 30 minutes Double Training Runs are being held - 15 minutes of running, 7.5 minutes of core work and recovery, 7.5 minutes of running. Last session is Monday August 17. August 21 will be a rest day.
**Double Training for the offices of Ujena on Wednesday at 5:45pm lead by Bob and Michael Anderson
This one hour workout is open to runners of all abilities. We run on the trail that takes us pass Google and out to Shoreline Park. Meet at 1931 Old Middlefield Way, Mountain View, CA 94043

Packet Pickup - Friday, August 21, 2015
Road Runner Sports, Campbell California
877 E. Hamilton Ave, Campbell, CA 95008
Noon to 6:00pm - Packet Pickup
**Road Runner Sports will be hosting Toni's Double Training Runs and Ujena Fit Club DT Runs Saturday morning at 8am from the Campbell store starting July 11 and continuing for six weeks until August 15. It is a free program.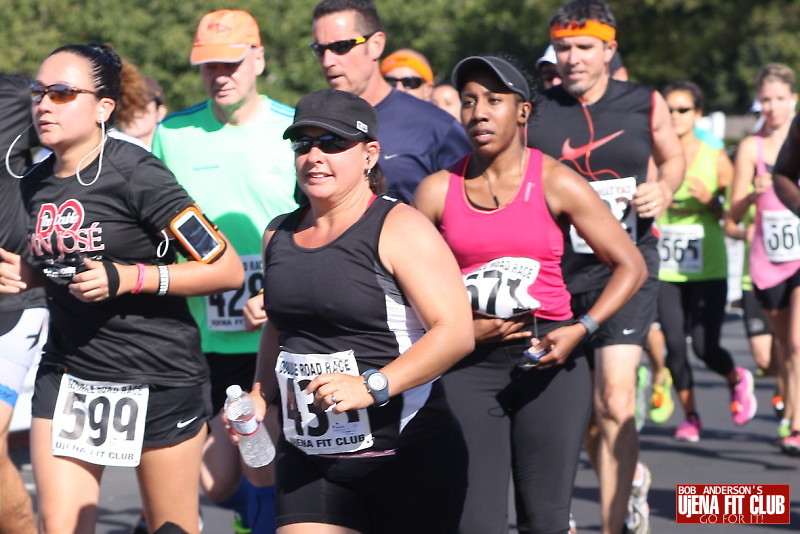 San Jose Double Schedule of Events:
Saturday, August 22, 2015
6:00am to 7:00am - Same Day Registration
6:00am to 7:15am - Race Morning Packet Pick Up
6:30am to Noon - San Jose Double Festival
7:30am - Start Double 15k - First Leg 10k (6.2 miles)
7:55am - Start Double 5k - First Leg 3k (1.8 miles)
9:15am - Start Double 5k - Second Leg 2k (1.3 miles)
9:15am - Start Double 15k - Second Leg 5k (3.1m)
10:00am - Start Bob Anderson's Kids Cup Double 1.5m - First Leg 1 Mile
10:30am - Start Bob Anderson's Kids Cup Double 1.5m (for kids 13 and under) First leg 1 mile - 2nd Leg 1/2 Mile
11:15am to 11:45am - Awards Ceremony
San Jose Feb 22, 2015 Results: Double Road Race 15K - Ujena Double 5K - Kids Double 1.5 Mile Photos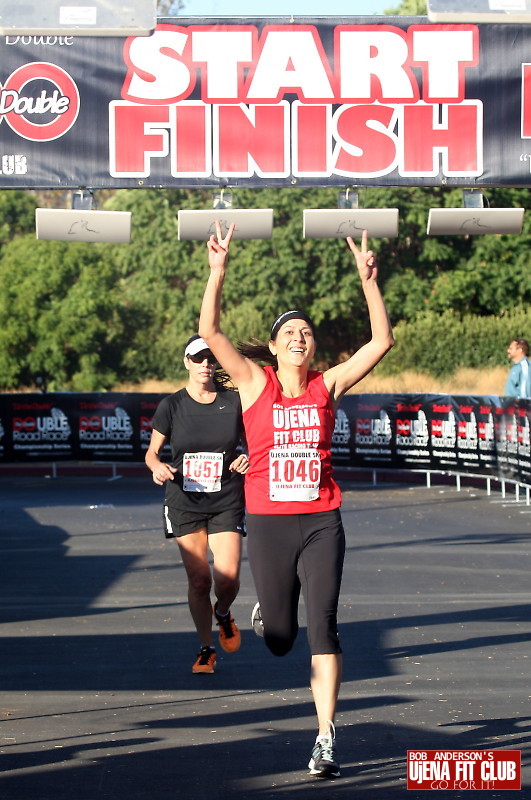 *Your Double Race Entry fee covers:

All Three Double Racing Events
*Official Race T-shirt
*Special Draw String Tote Bag
*Entry into the Recovery Zone
*Special medal for all Double finishers
*Current issue of Double Runner Magazine
*Chance to be featured in the next issue of DR magazine

*Double Road Race 15k (10k+halftime+5k)
Double two-sided medals to top five per 5-year age-group in the Double 15k Challenge (14 and under, 15-19, 20-24...75 plus) Up to $5,125 of prize money overall winners and all age-groups.
*Ujena Double 5k Run/Walk (3k+halftme+2k)
Double medal for the top three in each age-group (19 and under, 20-29, 30-39, 40-49, 50-59, 60-69. 70 plus) $150 of prize money will be issued to top three winners.
*Bob Anderson's Kids Cup Double 1.5 Mile
Double medal for the winner for each age (from 4 to 13) Trophy for first boy and girl. Shirts for all runners. Medals to all finishers.

San Jose Double Festival - 6:30am to 1pm August 22, 2015 Music provided by: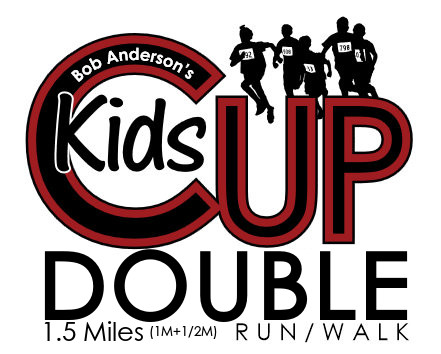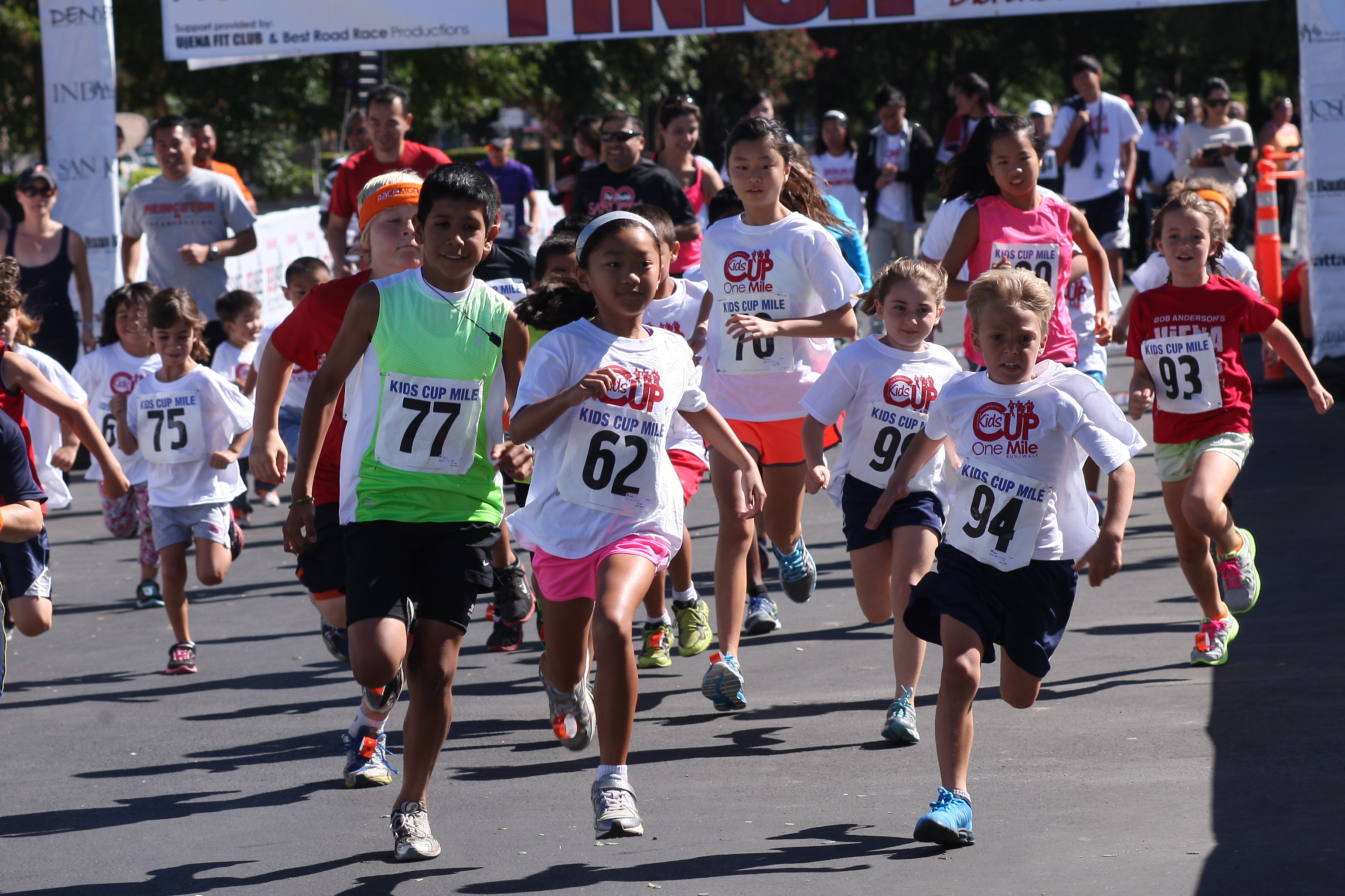 Run For The Kids – 100% of all donations benefit non-profit youth running programs nationally and locally. Bring along the kids (13 and under) for the Bob Anderson's Kids Cup Double. The kids first run 1 mile and then 30 minutes later the 1/2 mile starts.
August 22 Course - A Video Look!

Providing Complementary One Night Stay to Winning Male and Female


($300/night ea. value)
112,522