The Double Grand Champion
The runner with the Best Age-Graded Performance
We are leveling the playing field at the Double Road Race!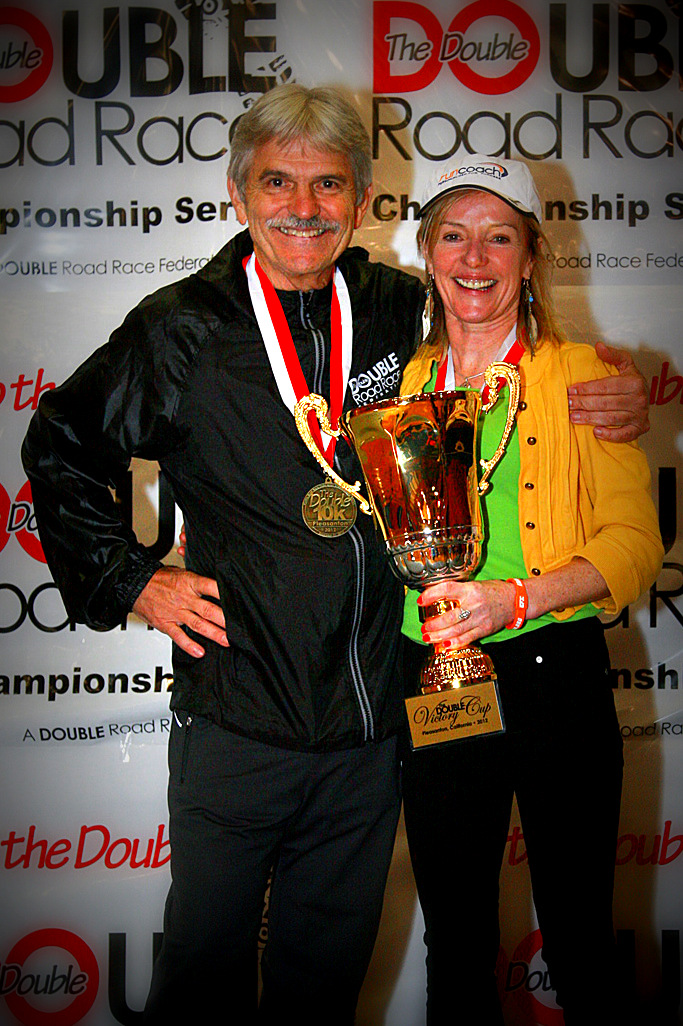 There are many unique concepts of the Double Road Race®. For one, our Grand Champion at each location, winning the Double Victory Cup, is that runner (man or woman) who posts the the best age-graded performance.
In addition to the top award, the runner (either male or female) will win the same prize money as our first male and female overall finisher.
We are not taking away attention from our overall winners. They too are our stars. We are only giving more attention to the person who posts the best age-graded performance.
Age graded scoring is a great way of putting race participants on a level playing field, regardless of age or gender. Age-graded scores let you compare your race times to those of different runners, as well as to the standard for your age and gender.
It is a unique and exciting component of the Double Road Race to crown our overall winner based on their age-graded performance and reward those who continue to stay fit no matter what age they are.
- - - - - - - - - - - - - - - - - - - - - - - - - - - - - - -Photo: 57-year-old Christine Kennedy was the first Double Grand Champion held in Pleasanton, CA Dec 2012. Her age-graded percentage was 97.81%. She is the only woman age 56 or older in the world to have run under three hours for the marathon. Pictured with Double creator Bob Anderson who posted a 81.40% performance.
- - - - - - - - - - - - - - - - - - - - - - - - - - - - - - - -



Any runner of any age, male or female, can be the overall Double Road Race Grand Champion
The concept of age-grading is not new, however, recognizing our grand champion as being the one person who posts the best age-graded performance is unique to our sport of Double Road Racing.
The age-graded system was developed by Howard Grubbs in England for the World Masters Athletics (WMA) organization. We use the 15k tables that were updated in 2010. The most current WMA tables will be used by the Double Road Race Federation to score each Double. Our overall winner (Grand Champion) is the runner (man or woman) who posts the best age-graded performance. For additional information about this scoring system click here.
Age-Graded performance 90% or higher are considered International Class, 80% National Class and 70% Local Class. All results at each Double will also be age-graded. For 2012 Pleasanton Age-Graded results click here.
Top Ten Age Graded Double Road Race Performances of all Time
| | | | | | | | | |
| --- | --- | --- | --- | --- | --- | --- | --- | --- |
| Rank | Name | Hometown | Age | Sex | Double Location | Date | Time | % |
| 1 | Christine Kennedy | Los Gatos, CA | 57 | F | Pleasanton, CA | 12/23/12 | 58:34 | 97.81 |
| 2 | Barbara Miller | Modesto, CA | 73 | F | Pleasanton, CA | 12/23/12 | 1:17:40 | 94.10 |
| 3 | Terry McCluskey | Vienna, OH | 64 | M | Pleasanton, CA | 12/23/12 | 58:24 | 90.67 |
| 4 | Fenando Cabada | Boulder, CO | 30 | M | Pleasanton, CA | 12/23/12 | 45:34 | 90.31 |
| 5 | Marcial Soto | Eugene, OR | 60 | M | Pleasanton, CA | 12/23/12 | 56:37 | 90.11 |
| 6 | Daniel Tapia | Castroville, CA | 26 | M | Pleasanton, CA | 12/23/12 | 46:05 | 89.29 |
| 7 | Brian Davis | Livermore, CA | 57 | M | Pleasanton, CA | 12/23/12 | 56:38 | 87.70 |
| 8 | Hans Schmid | Greenbrae, CA | 72 | M | Pleasanton, CA | 12/23/12 | 1:05:54 | 87.42 |
| 9 | Tyler McCandless | Boulder, CO | 26 | M | Pleasanton, CA | 12/23/12 | 47:13 | 87.15 |
| 10 | Matt Duffy | Mt View, CA | 22 | M | Pleasanton, CA | 12/23/12 | 47:15 | 87.13 |
5,463