A Long Run - The Movie on DVD and Hi-Def Blu-Ray Disc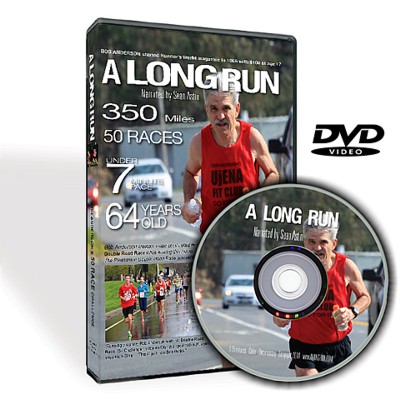 "A Long Run tells one man's story, but it's every runner's journey. Bob Anderson's amazing life connects us to icons like Bill Rodgers, Billy Mills and Paula Radcliffe but also to the low-budget thrill of a community 5k. The gorgeous cinematography captures The Avenue of the Giants, the San Francisco landscapes and the vistas of Fort Bragg. And the smoothly intertwined stories - his 50-race challenge, the magazine, the running boom - are handled with Olympic-caliber pacing. By the end, you're left with a runner's high, without all the sweat." Dan Brown, San Jose Mercury News
Now available on Blu-Ray Disc. This is an updated cut of the documentary. only 29.99 + S/H Order your copy today.
An inspirational life long journey that takes you across the United States and introduces you to some amazing runners.
A Long Run features Bob Anderson who started Runner's World magazine when he was 17 with $100. He grew the magazine to nearly a half million circulation before selling it to Rodale Press in 1984. How did he do it and why did he sell the magazine he loved?
50 years after he started running, he started his 50 race challenge...One year - 50 races - 350 miles
Order your copy on DVD or Blu-Ray today. DVD Price is $19.95, Blu-Ray $29.95, plus $4.95 shipping/handling. DVD Run time 115 minutes. Blu-Ray: 1hr49min