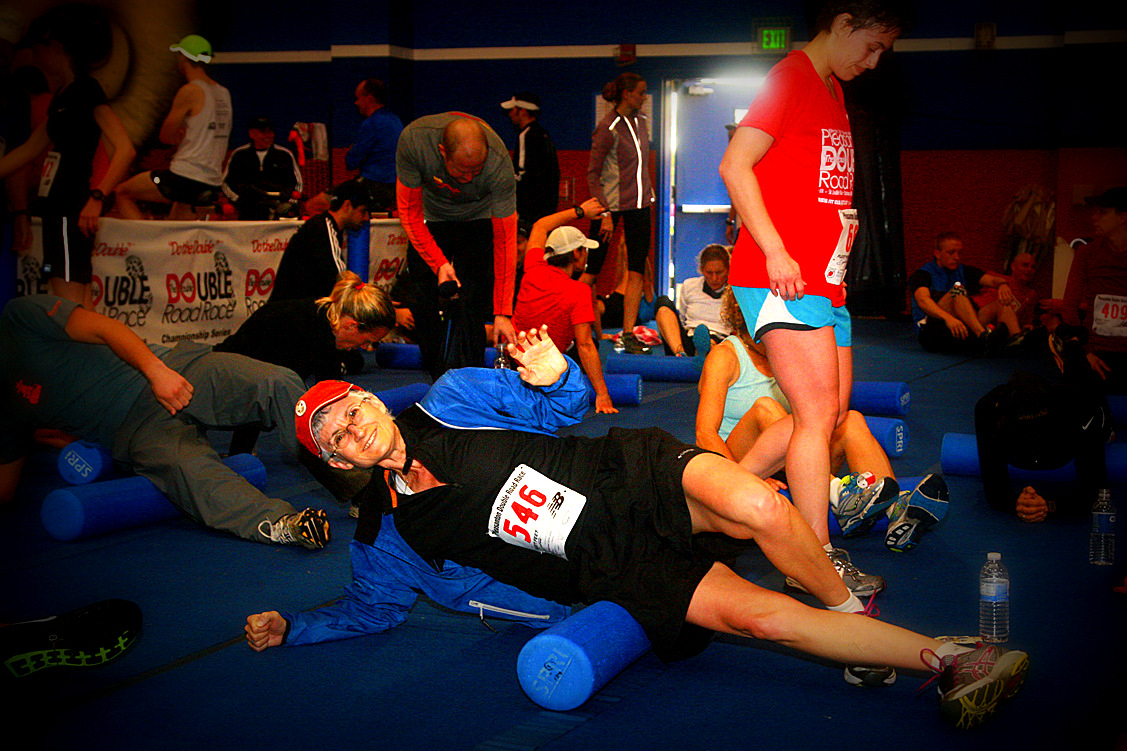 Comments from Double Road Race Pleasanton 2012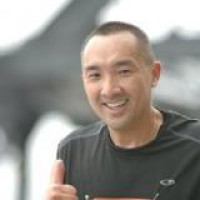 Feedback from our first ever Double Road Race® held Dec 23, 2012 in Pleasanton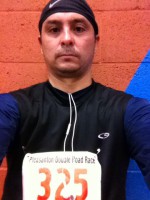 California was very positive. Of course there are always things we can and will improve as we stage Doubles around the country and the world. Are you ready for the Double?
"Awesome time! I thought the Double was a very unique and exciting concept. Lot more fun having to plan and strategize on how to attack both runs with the break. Love the break (Recovery Zone) in the Hart gym with massages, exercise bikes and stretching stations," wrote Winton Jew (pictured at left...he finished in 1:20:27).
"This was my official race and I could have not picked a better one," says Chris Guinther. "From packet pickup to the time I left I felt everything was well organized. I am looking forward to my next race." (pictured right above...he finished in 1:20:54).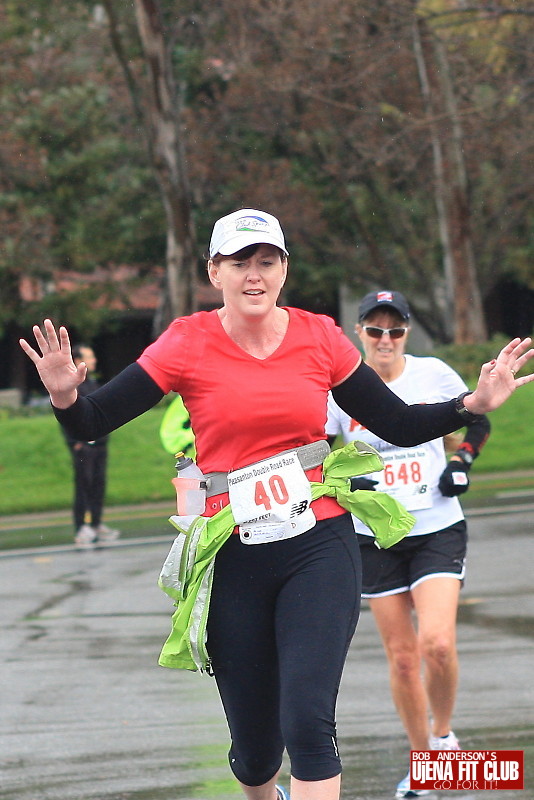 "This was a great experience. The longest distance I have run so far. Loved it!" says Shruti Lele. "It was a very fun race. I plan to do it again next year," stated Abel. "This was my first time running a 10k. The course was a lot of fun! It was nice to relax in the gym in the Recovery Zone before the 5k started," says Kristine Duque.
"It was a great race, and I was so happy to be part of it. Only my second race, and I loved it. Rain and wind be damned!...quite the experience. I actually enjoyed the rain on the first leg...Will I run it again?...in a heartbeat!" stated Tim Monahan.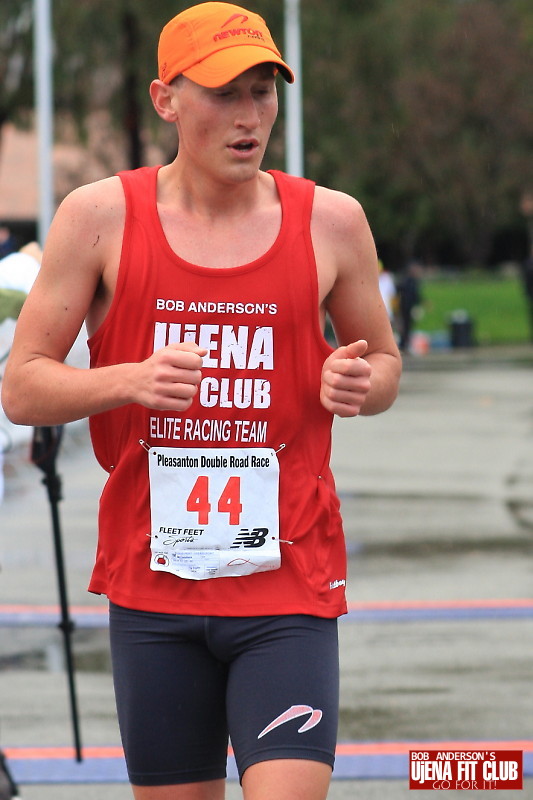 "Loved this new sport! I really enjoyed the fact the 10k was two 5k laps. Course was totally flat which was perfect. Having Hart Middle School gym for the recovery zone to stay warm was ideal, as well as having exercise bikes and foam rollers to keep loose. I would love to put on one of these events in Denver," wrote Tyler McCandless who placed third overall. (Tyler at finishing the 10k leg. After Pleasanton, Tyler signed up to be a Double Road Race director for our Double in Denver July 21.)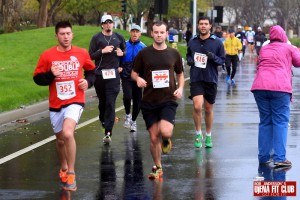 "Well... I drove 16 hours from Victoria BC, through snow and ice, the day before the race. Ran both legs in a state of exhaustion, dehydration, and likely under nourished. Toss in the high winds and icy cold down pour, and I found myself running one of the most agonizingly painful 15ks I've ever endured... And, I loved every minute of it. I'd do it again in a heartbeat. Thank you Bob Anderson, and all the organizers and volunteers who braved the weather to put together a very organized event despite the horrible conditions. This is a very unique event that I feel would be appealing to runners of all levels," says Tyson Kranz (416 in photo...he finished with 1:13:24 (49:07 10k leg and 24:16 5k leg)
"It was tough race conditions," says Abbie Feibush, "in fact I questioned making the drive from Marin. I'm an Ironman triathlete and sometimes you pull out all of your mind-tricks for days like these."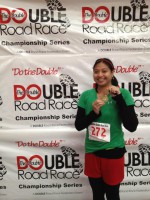 "This was my first time running a 10k," wrote Kristine Duque. "The course was a lot of fun! It was nice to relax in the gym for the recovery time before the 5k started. And I really like my double sided keychain medal. It's now my favorite one." (Kristine pictured at left)
"We had seven members of our team (Tri Force) race and we all really enjoyed the Double Road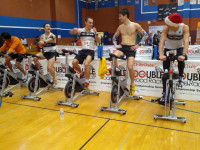 Race. Really enjoyed the recovery zone," says Kevin Coady. (Kevin photo right in the recovery zone finished in 55:19)
"The Double gets very high marks," says Terry McCluskey, "as viewed by this experienced runner of 31 years. Even the monsoon rain that preceded the event did not damper the quality of the race. The indoor recovery room was extremely helpful. I suggest adding changing rooms. The Yellow Jersey for the leader was fantastic. The flat course was ideal and the loop was very satisfactory. I hope to be able to help in some capacity with future Double Road Races." (Terry finished in 58:24).
"The Pleasanton Double Road Race was very well organized and I was extremely happy with the recovery zone, especially the kind people from Club Sport who helped with stretches between and after the race. I loved the indoor bicycles, really helped keep the muscles warm between the races," says Kim Neff.
Kim continued, "My daughter also ran the Kids Cup Mile (her first "race") and even after a long, wet day, the organizers were very enthusiastic and support. It was terrific to have Bob Anderson there at the finish line calling out support to the kids as they neared the finished. I am looking forward to run more races like this one. I have never run a 10k or 5k before (just half marathons) and I was surprised (and thrilled) at how much faster I ran this race. Thanks Bob and the DRR team for bringing this event to my hometown of Pleasanton."
10,165