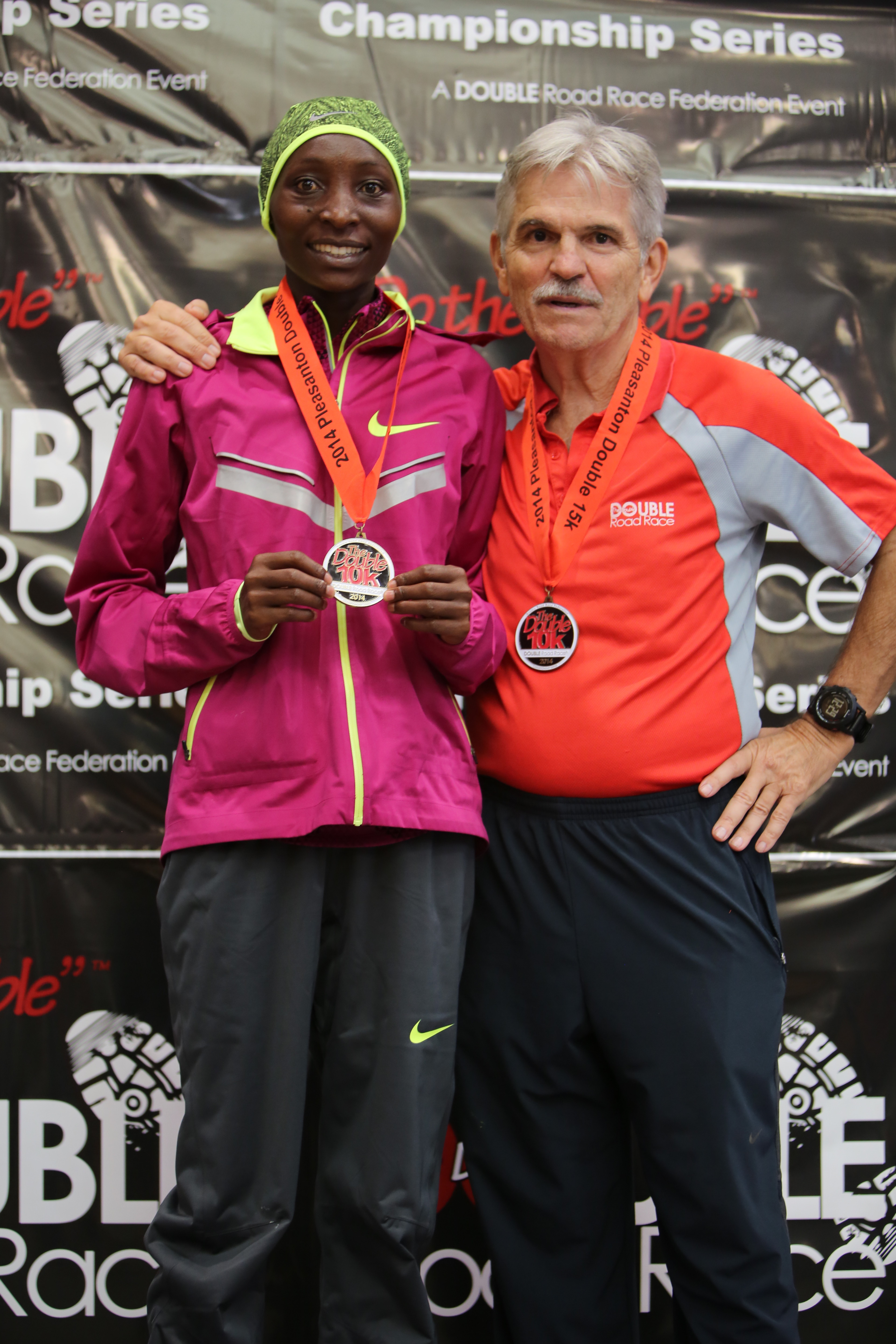 Double San Juan Bautista CA Prize Money
Cash prizes will be awarded based on the rules and regulations established by the Double Road Race Federation outlined under Section 3: Cash Awards Runners must be present at the awards ceremony to receive your cash prize. The results at the awards ceremony are unofficial, however. After the 48-hour protest period, the results will be made official and cash prizes will be mailed.
To receive prize money, the competitor has to be a current member of the Ujena Fit Club which serves as the verifying organization regarding age, identification, etc. Once the results are official, checks will be mailed ten to fifteen days after race date to the address on your Ujena Fit Club account.
"Most Fit Team" (Company or group team with the most finishers, men and women, between all the Double Racing events including the Kids Cup Double) - wins a special plaque and a special medal for each finisher.
Risper Gesabwa (left) with Bob Anderson at the Pleasanton Double Road Race Dec 21, 2014. She set the world record posting 48:45. She won $2110 that day, which is the most anyone has won so far. Over $100,000 of prize money has been awarded across all age-groups.
Additional dollars is being awarded to our Leaderboard Winners. $15,000 in total is being awarded to the top 20 men and top 20 men during our 2015 Double 15k Season which started in Pleasanton Dec 21, 2014. For additinal information and to see the current standings, click here. 2015 Double 15k Leaderboard
For the latest Records and Best Performances click here.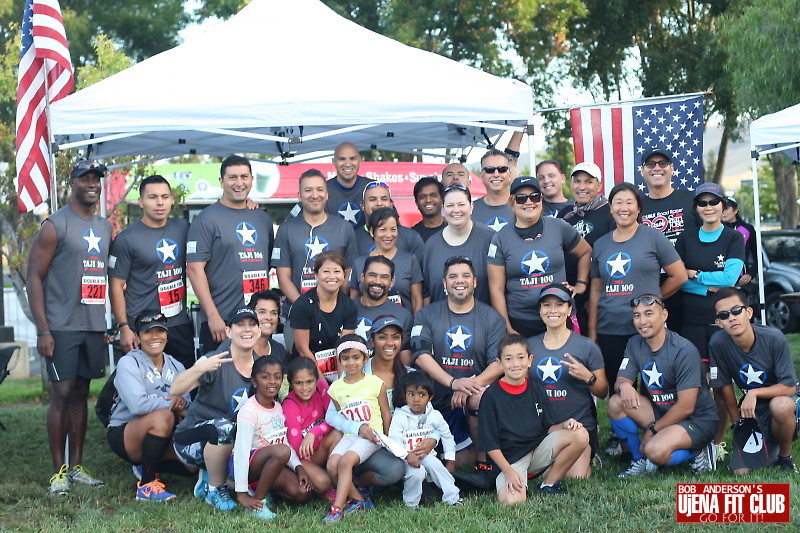 TAJI 100 was the winner of the Most Fit Team at the San Jose Double Racing Festival. They received a plaque and each member received a special Most Fit Team medal. Since they put together a team of 20 or more, they were given a team. We also offer team discounts. For more information, contact our Operations Director Waitman Gobble, waitman@doubleroadrace.com
Prize money is based on the number of runners we are expecting.
Grand Champion (Best Age-Graded Performance*) wins the coveted Double Victory Cup + $100
Men
Women
Men and Women
1st
$100
1st
$100
2nd
$50
2nd
$50
3rd
$20
3rd
$20
20-29
1
$20
1
$20
30-39
1
$20
1
$20
Age-Group Winners
40-49
1st
$20
1st
$20
50-59
1st
$20
1st
$20
60-69
1st
$20
1st
$20
70 Plus
1st
$20
1st
$20
UjENA Double 8K (5K+3K)
1st
$40
1st
$40
2nd
$25
2nd
$25
3rd
$20
3rd
$20

Prize Money $850

DRRF Double 15k

Bonus
Money

World Record
$1000**
$1000**
American Record
$500***
$500***
Time Bonus
Men Time under 43 min
$500****
Women Time under 48 min
$500****
Total Bonus Money

$4,000




GRAND TOTAL

$4,850
*A Double Team must have at least three finishers to qualify. A team can have more runners than three. A master team is made up of all runners forty plus. A mixed team must have at least one female scoring finisher. Prize money is divided between the top three scoring finishers.
**If a man or woman of any age breaks the current world record, a $1000 bonus will be awarded.
***If a man or woman of any age breaks the current american record, a $500 bonus will be awarded. Must be an American citizen
****If the winning time is under this time, a $500 bonus will be paid to first place.
+Grand Total if all bonus money was earned.
IN ALL CASES, to recieve prize money you must have a current Ujena Fit Club account, must have at least one photo posted and some current race results.