Select from the available races:
To begin the registration process, select your race from the list below. If you have a promo code you may enter it after you have added a registration to your shopping cart. After you have added a runner to your cart you can check out and make your payment using credit cards or PayPal. You can add more than one runner registration to your cart. After you have added a runner, you will come back to the page and use the links below to add additional runners.
Click here to return to the home page.
Golden Gate 8K Double (5K+3K)
Golden Gate San Francisco. August 4, 2024. .
$46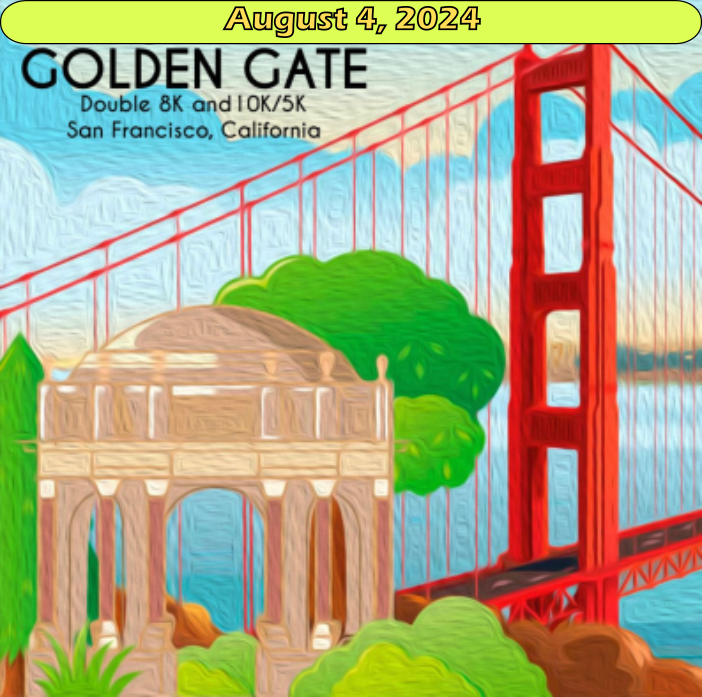 Golden Gate 10K
Golden Gate San Francisco. August 4, 2024
$46

UjENA 5K
Golden Gate San Francisco. August 4, 2024
$46

Pre-Reg Discount Entry
Now until November 30, 2023
Golden Gate Double 8K
$46
Golden Gate 10K
$46
UjENA 5K
$46
Early Bird Entry
Until January 31, 2024
Golden Gate Double 8K
$49
Golden Gate 10K
$49
UjENA 5K
$49
Regular Registration Fee
Until March 30, 2024
Golden Double 8K
$59
Golden Gate 10K
$59
UjENA 5K
$59
Late Registration Fee
Until June 30, 2024
Golden Double 8K
$69
Golden Gate 10K
$69
UjENA 5K
$69
Final Registration
Until August 1, 2024
Golden Gate Double 8K
$79
Golden Gate 10K
$79
UjENA 5K
$79
Race Weekend Registration
Until August 4, 2024
Golden Gate Double 8K
$80
Golden Gate 10K
$80
UjENA 5K
$80